Family traditions are like onions. They have a core of truth, but we have to peel back the layers to get to that core. Layers of confusion, embroidery, and even shame.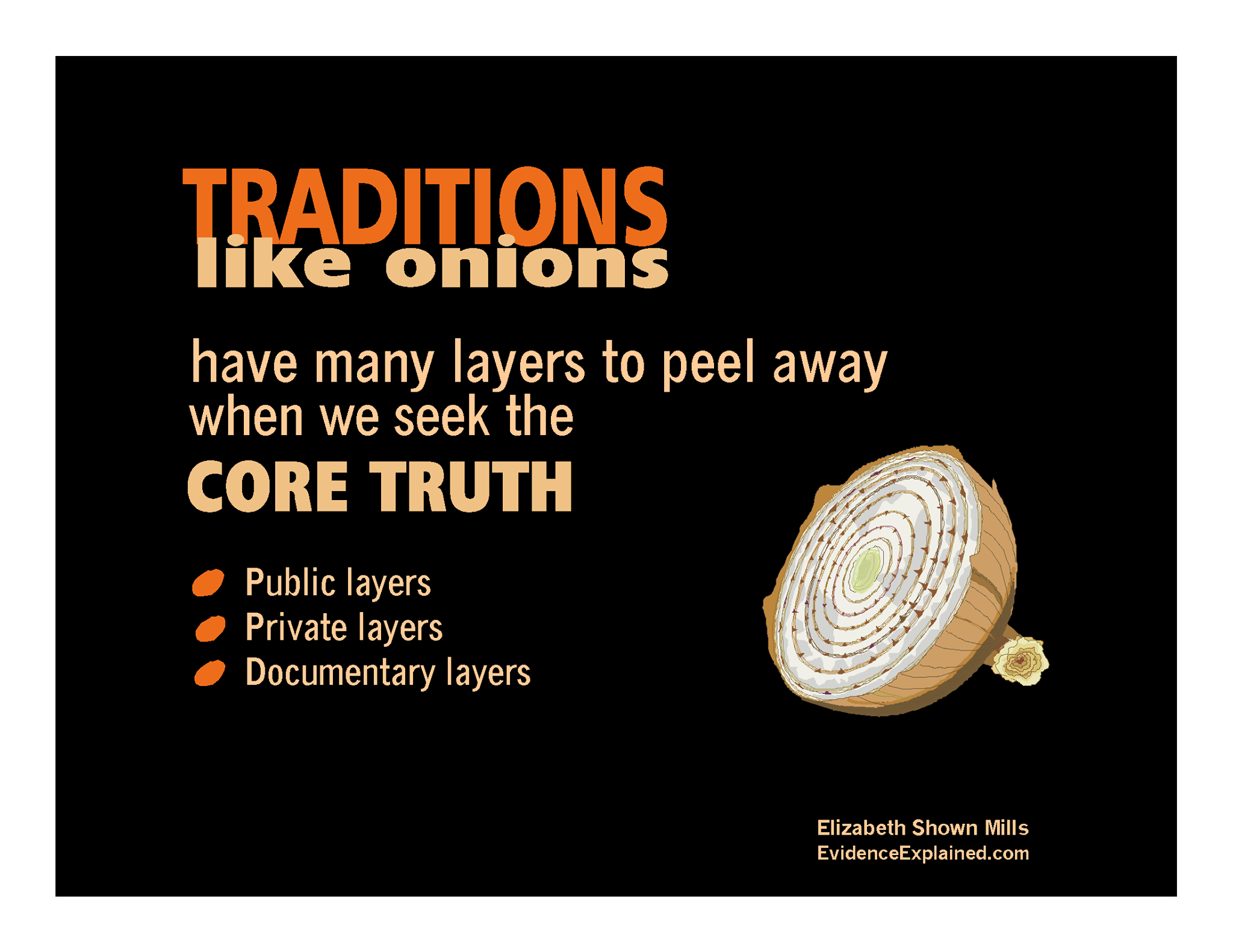 Yesterday we looked at five reasons why family stories have strayed from what Grandma would call the "straight and narrow." Today, we offer a six-step game plan that will help you uncover that core of truth in your family stories that provide a path into your past.
Our game plan:
Use the details of 'tradition' as clues.

Find the paper trail behind each clue.

Follow each paper trail to its earliest written form.

Weed out sources that simply parrot each other. (Just because something has been copied and recopied for a hundred years does not make it true!)

Weed out sources that are simply hearsay.

Work your way back to original sources—sources created at the time the event occurred and created by people with firsthand knowledge.
Past issues of the National Genealogical Society Quarterly* offer two superb models we can follow. In the first, after layers of the onion were peeled back, the tradition proved radically wrong. In the second, the core truth was truth indeed and the research the author did to test the tradition led to a rich family history.
Johnson, Louise F. "Testing Popular Lore: Marmaduke Swearingen a.k.a. Chief Blue Jacket." NGS Quarterly 82 (September 1994): 165–78.
Shipley, Douglas S. "The Enslaved Austins of Missouri's 'Little Dixie'." NGS Quarterly 90 (June 2002): 111–35.
---
*All back issues of the NGS Quarterly, since 1906, are available online for society members at https://www.ngsgenealogy.org/ngsq/. Non-members can find this peer-reviewed journal in many American universities, large city libraries, and smaller libraries with genealogical collections. The Genealogy Center of the Allen County Public Library (Fort Wayne, Indiana; http://www.genealogycenter.org/Services.aspx), creator of the finding aid PERSI: The Periodical Source Index, also provides an inexpensive copying service for articles published in most American journals and historical magazines over the past two centuries
HOW TO CITE: Elizabeth Shown Mills, "How to Find the Truth about a Family Story," blog post, QuickTips: The Blog @ Evidence Explained (https://www.evidenceexplained.com/quicktips/how-find-truth-family-story : posted 30 June 2018.