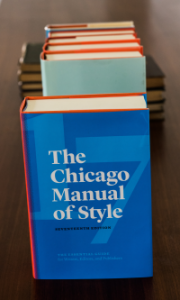 Inquiring minds have asked: "How does EE differ from CMOS?"
Good question. The short-version of an answer lies within their titles:
Evidence Explained: Citing History Sources from Artifacts to Cyberspace
The Chicago Manual of Style: The Essential Guide for Writers, Editors, and Publishers
There's one key word in each title that emphasizes the difference: Citing vs. Style.
The Chicago Manual as a guide for writers, editors, and publishers, deals with stylistic measures. It answers all those questions we have about
abbreviating

assembling books

capitalizing

formatting

indexing

grammar

numbering

preparing manuscripts

punctuating

quoting

spelling
And, yes, citing. The last two of its seventeen chapters deal with citing sources—primarily published materials—in both Humanities Style and Scientific Style.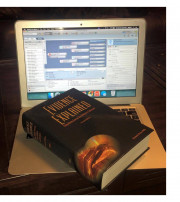 Evidence Explained as a guide to using history sources, focuses on how to evaluate and cite the evidence we find. Put another way: how to identify materials in a way that allows researchers and their readers to judge the quality of their evidence. EE covers all kinds of sources—particularly all those types of original records that CMOS does not cover.  In brief
2 chapters cover basic principles

2 chapters cover the types of published sources that CMOS covers

10 chapters cover those artifacts and documents that CMOS does not cover.
EE especially tackles the confusion created by today's research environment in which billions of esoteric records have been abstracted, extracted, imaged, indexed, and otherwise processed and delivered in ways that very much affect the reliability of content.
As EE's title implies: along with model formats, EE also explains each type of source and the many quirks that can make them more or less reliable.
The bottom line (in our admittedly biased opinion): The serious student of history needs both.
---
IMAGE CREDITS:
"Chicago Manual of Style," Wikipedia (https://en.wikipedia.org/wiki/The_Chicago_Manual_of_Style : downloaded 16 October 2018), citing photo by Staff of the University of Chicago Press; used under Creative Commons license.
Jeremy Abbott, "Cite Your Sources" (closed group), Facebook (https://www.facebook.com/groups/Citesources/

 

: accessed 7 May 2015), posting "Omg. Omg. Omg. Look what arrived today!!!," dated 28 April 2015; used with permission.
HOW TO CITE: Elizabeth Shown Mills, "CMOS vs EE," blog post, QuickTips: The Blog @ Evidence Explained (https://www.evidenceexplained.org/quicktips/CMOS-vs-EE : posted 16 October 2018).
Blog Term