Free African-Americans along the Atlantic Seaboard
2 May 2014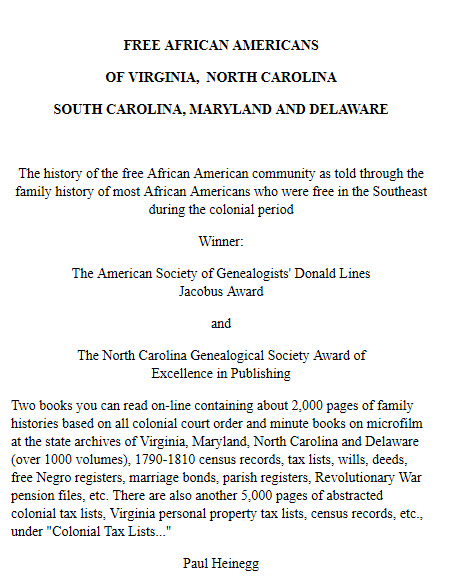 On the eve of America's Civil War, roughly one out of every eight African-Americans was considered free—either freeborn or emancipated from slavery. The census of 1860 identified 488,079 Americans as either free "black" or free "mulatto"—predominantly African-American—while another 44,020 were publicly recognized as "Indian.
Tales of the Underground Railroad have widely publicized the existence of free families of color north of the Mason-Dixon Line. Far less well-known is the fact that roughly half of the free colored population in 1860 lived in the Southern states.
Paul Heinegg has devoted his life to the study of those free people of color on the Southern Seaboard—Delaware, Maryland, Virginia, and the Carolinas. His website offers some 5,000 pages of record abstracts from court orders, deeds, parish registers, probates, tax rolls, and other records identifying both free African and Native Americans—as well as another 2,000 pages of award-winning genealogies, extensively documented, for most of these of multiracial families.
Colleagues have contributed compilations for Indiana, Tennessee, and Indiana (the last of which is rich in data but, unfortunately, devoid of documentation). Researchers will also find there a trove of photographs of both African-Americans and Native-Americans of the nineteenth century.
Heinegg's site is well-worth exploring. http://www.freeafricanamericans.com