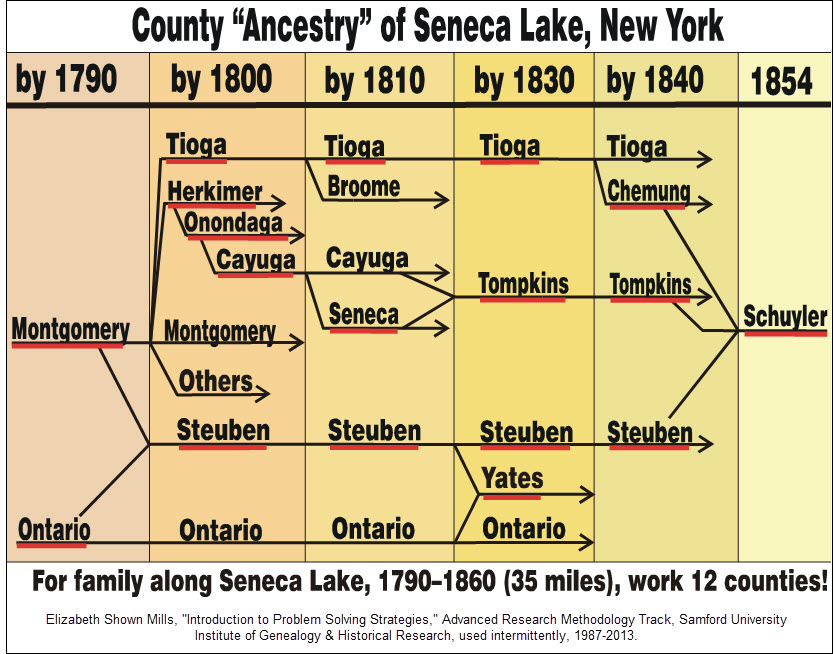 As a researcher do you create ancestor-descendant charts for the geographic areas that you research? Those charts pay dividends.
In Fairfield County, South Carolina, the earliest probate book carries the label, "1787–1800."  That's logical, Fairfield was created in 1785 and there is usually a time lapse before new county governments are actually functioning. However, prior to 1785, Fairfield was part of the now-defunct Camden District, which was created in 1769. Before that, it was part of the now-defunct Craven County.  
So?
So: What happened to the probate records created in the Fairfield region while it was part of Camden and Craven? 
We all hear it said that next to nothing exists for South Carolina's upcountry counties until after the Revolution. But "next to nothing" is not the same as "nothing." What happened to the records that were created before the reorganization in 1785?
As with research on families, genealogy charts for counties and other jurisdictions need to include collaterals, not just ancestors. Old Camden District covered what is now the counties of Chester, Clarendon, Claremont, Fairfield, Kershaw, Lancaster, Richland, and York.
When working Fairfield families, if we extend our research into those collateral counties we make a wonderful discovery. In Kershaw County, across the river from Fairfield, the first probate book has 300-plus pages from old Camden District, including many Fairfield records.
ABOUT THE IMAGE: There are many ways to create ancestor-descendant charts for geographic areas. The attached chart takes a different approach for a different region, synching the subdivision of counties with U.S. census years. 
HOW TO CITE: Elizabeth Shown Mills, "Genealogical Charts Aren't Just for Families," blog post, QuickTips: The Blog @ Evidence Explained (https://www.evidenceexplained.com/quicktips/genealogical-charts-aren't-just-for-families : posted 3 January 2019).