That Wonderful Little Space Saver Called 'Ibid.'
21 August 2014
"Ibid." is a tidy little convention we see in all sorts of published citations—but never, ever, should we use it in a work-in-progress. It's a tool we save for final drafts of work as we approach the point of publication.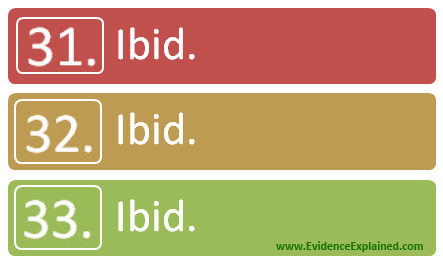 Short for "ibidem," ibid. means "In the place just cited above." If we use it for a work-in-progress and we insert new material, along with citations that support the new matter, that "ibid." will become disconnected from its proper source and reconnected to something it does not relate to at all.
Three other little rules for "ibid."can help us use it most effectively:
Ibid. is presented in regular (roman) type amid text and notes, without italics—unless we're saying "the word ibid."
Ibid. is not used if the prior note cites multiple sources.
Ibid. is not used if the prior note includes a discussion of something, as well as a citation to a source.
If you're curious about other "Latinisms"—where, when, how, or even if they should be used today—check out EE's chapter 2, "Fundamentals of Citation."