8 April 2014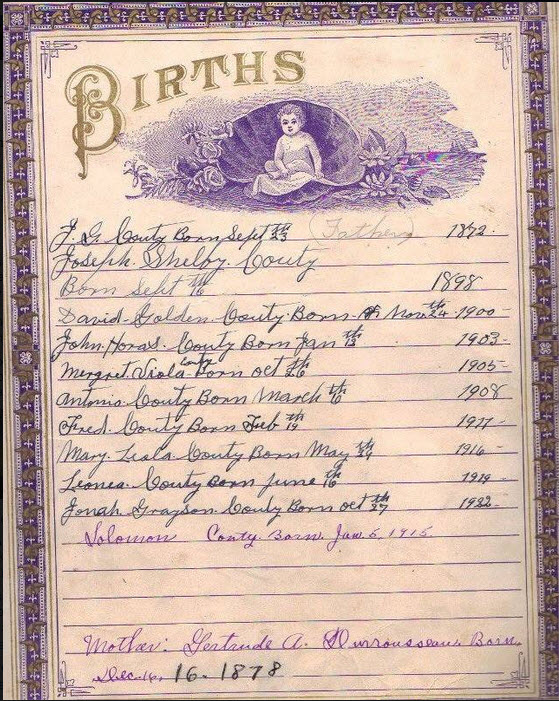 The words penned in old Bibles are so often taken at face value.  We make assumptions on the basis of what we see. For the attached image, we've extracted the data in case you need help with the names. Use both to analyze the record.
J. G. Couty   Born Sept th 23  (Father) 1872
Joseph Shelby Couty  Born Sept th 16 1898
David Golden Couty   Born Nov th 24 1900
John Horas Couty Born Jan th 12 1903
Margret Viola Couty Born Oc. th 26 1905
Antonio Couty Born March th 6 1908
Fred Couty Born Feb th 14 1911
Mary Leola Couty Born May th 24 1916
Leonea Couty Born June th 16 1919
Jonah Grayson Couty Born Oct th 27 1922
Solomon Couty Born Jan  5  1915
Mother: Gertrude A. Durrousseau  Born Dec. 16   16. 1878
SOURCE: Laura LaCour, wall posting at "Laura LaCour," Facebook (https://www.facebook.com/LauraLaCourABQ: 29 March 2014@4:30pm. Used with permission (and appreciation).
Because this is a late-19th to early 20th-century record, there's also a surviving story behind it. We're curious as to how many EE users would anticipate that situation, in addition to the more-obvious clues.
Thoughts?