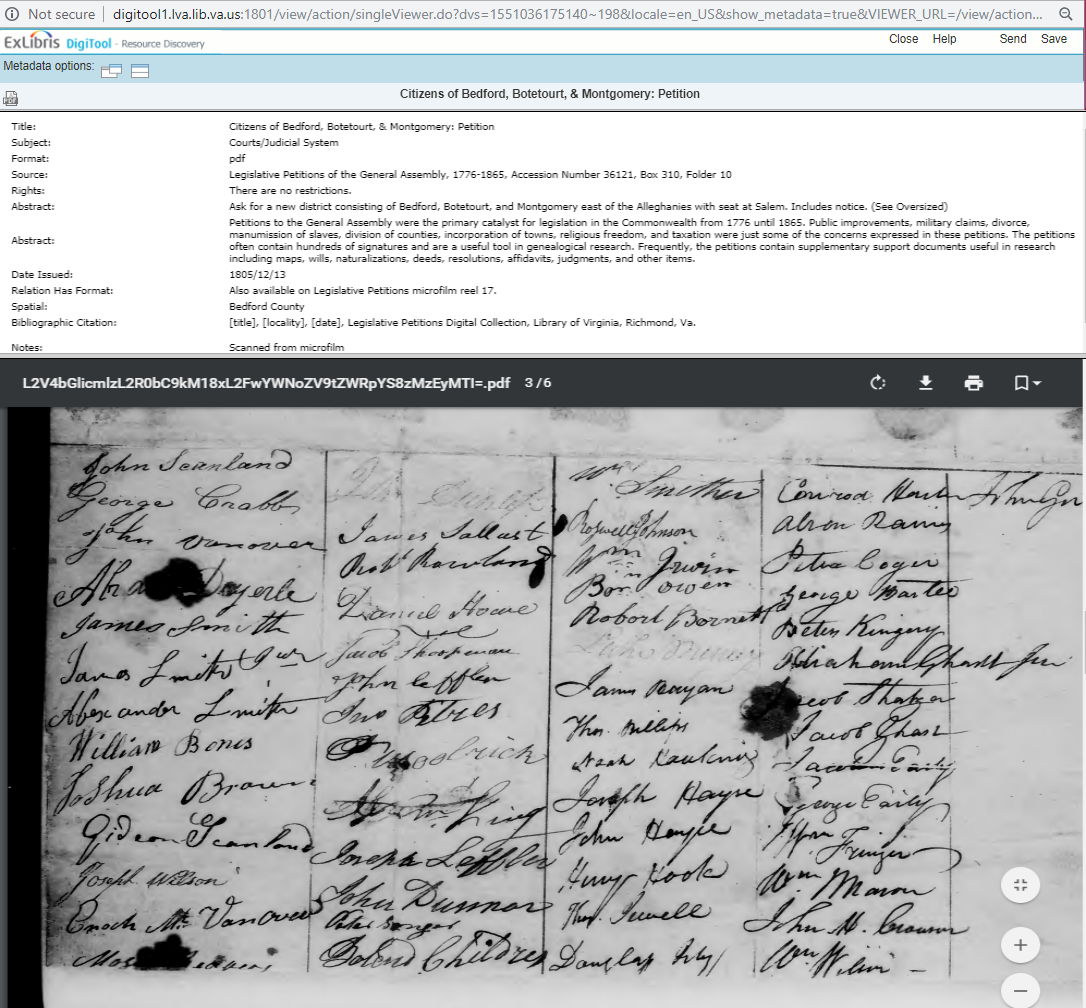 ​
Someone just shared with me the image attached to today's post. Talk about all-in-one packaging! The image captures the URL, which tells us that it came from the website of the Library of Virginia. It captures the library's identification and description of the document, so we know
the kind of petition the signers signed

the date

the location of the original document

the location of the people who signed the petition: Bedford, Botetourt & Montgomery

the exact image or page from the document: image 3 of 6
And then it captures the whole page of signatures.
What's your reaction?
"Fantastic! Now I have William Wilson's signature to add to my files. That signature may help me sort out whether this is the William who lived in Bedford or the one who lived in Botetourt!"

"Hmhh. I wonder what else isn't captured by this image. Before I add this in my files, maybe I should go look at the full petition and see what's missed."
Let's try the latter approach. As you see from the image above, this signature page is image 3. Let's look at image 2.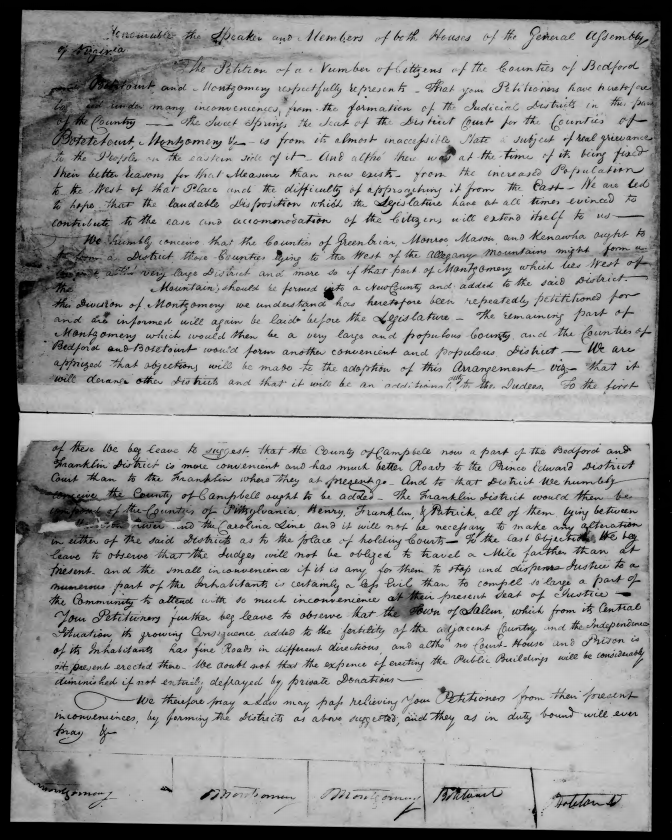 ​
Well, that definitely changes things! The imaged page of signatures gives us five columns of people who—we're told—lived in one of three counties: Bedford, Botetourt, or Montgomery. In alpha order, the way orderly archivists list things. But the bottom of the preceding page has a curious footer. That footer is actually headers for the signature page that follows.  William Wilson, in column 4, was a Botetourt man. Bedford men aren't on this page at all.
When your research turns up a document of interest, do you grab a quick image or do you take the time to study the whole document—not just the content, but the way the document and its content are organized?
---
IMAGE CREDITS:
"Legislative Petitions Digital Collection," database with images, Library of Virginia, Virginia Memory (http://www.virginiamemory.com/collections/petitions : accessed 24 February 2019), Record No. 000088897 ; citing Accession Number 36121, Box 310, Folder 10."  It goes without saying that the two snippets above omit many other things that the document reveals. If you care to analyze the document, do add your thoughts in our comments section.
HOW TO CITE:
Elizabeth Shown Mills, "How Careful Are You When Imaging Documents?" blog post, QuickTips: The Blog @ Evidence Explained (https://www.evidenceexplained.com/quicktips/how-careful-are-you-when-imaging-documents : posted 24 February 2019).
Blog Term