Forums
This should be an easy one to resolve. I have read through the chapter in EE on cemetery records (best book I ever purchased for research - I love it!) and I think I am almost there for a citation for the following grave. The grave is in a rural area but it has a street address. Civilization in getting closer to the grave so it's almost semi-rural now I guess. The grave itself consists of a headstone and a raised concrete border surrounds the grave with crushed granite filling the grave. The headstone is of granite and engraved. The query after reading through examples in EE chapter 5 is exactly how to cite this as I see "marker" mentioned in examples but not "headstone". Here is my attempt at a full reference using EE methodology (the grave is my Great Grandfather's):
Woombye Cemetery, (Maroochy Shire, Queensland, Australia), Frank Senescall headstone and grave, old section top of hill, personally read & photographed (Charles Senescall); 26 April 2021.
Ok how did I go? There are no rows or plot markers in this old section of the grave. As I am putting this on Wikitree I thought I best add my actual name in the cite because although you manage a deceased's profile you don't own it and anyone can amend on Wikitree - thus my identity as the gatherer of the evidence may not be immediately obvious as it would be in a book or article. Is it too wordy? Also this cemetery actually has a street address these days: 154-172 Woombye-Palmwoods Road, Palmwoods Queensland 4555. Should this go in the citation as well?? In addition I have GPS co-ords for the cite: Lat: 26° 40' 52"S, Lon; 152° 58' 28"E. That seems like overkill to me but please advise if that goes in a full cite for this in your opinion. I am guessing because the cemetery these days has an actual street address GPS is unnecessary although I have it all in my research notes along with tombstone & grave condition/deterioration etc. as the grave is over 100 years old (1913). A picture of the grave site is attached to give an idea of what I'm talking about.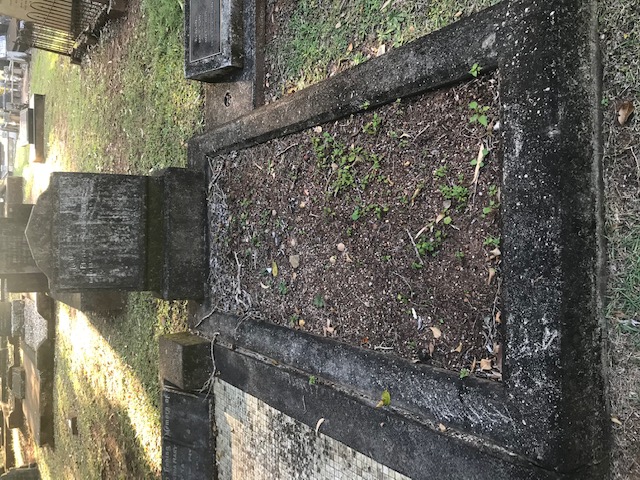 Phew! Thanks for any advice.